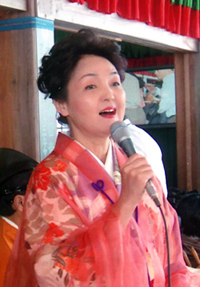 Izumi Kimoto

Founder/Leader of KIMOTO IZUMI "YAMATO"
Born and raised in Hiroshima City, Japan
"As long as I have a voice, may my songs reach out and rest upon the hearts of everyone." Such thoughts led to a fateful encounter with

Gagaku

(Japanese traditional music established in the 7th century) and created a distinctly new style of music.
Izumi started her career in 1969 as a member of "The Thoroughbreds", a female vocal trio led by Mr. Kyosen Ohashi, who had a popular late night TV show called "11PM" on the Nippon Television Network. In 1978 she joined the jazz choral group "ITS," which was regarded as the top ranking such group by jazz magazines for many years. After the group split up, Izumi became a solo jazz singer and developed her current identity and musical style by discovering the wonders and power of Japanese spiritual culture in

Gagaku

. She has found the beauty and harmony of blending

Gagaku

and Western music.
Timeline
1995

Izumi's new style of music was presented at a dinner show in celebration of the 1400-year anniversary of the Itsukushima Shrine on Miyajima Island, Hiroshima. It was her first major milestone in starting to engage with Japanese traditional music and, consequently, concerts and dinner shows become annual events.
1999

Izumi's CD, "Miyabi," was released at "August in Hiroshima '99," which was the city's first world music festival; it was co-sponsored by UNESCO. "Miyabi" is a reflection of her sorrow over losing her grandparents in the atomic bombing and it is her prayer for nuclear disarmament and world peace.

Izumi formed the band KIMOTO IZUMI "YAMATO" to perform a fusion of Gagaku and Western music and released the new CD, "Yamato."
2003

May 17, 2003 – KIMOTO IZUMI "YAMATO" performed as a special guest at Japan Day, held in Düsseldorf and Solingen, Germany; the concert was well received.
2007

September 5, 2007 – Izumi sang "Anatakara Anatae" (From You and Back to You) before the 14th Dalai Lama, commemorating the 1200-year anniversary of the establishment of Mt. Misen on Miyajima Island, Hiroshima, where Kobo Daishi, one of Japan's holiest monks, practiced Buddhism in the year 806. She and her band also performed "Etenraku" (ancient Japanese court ensemble music), moving many people's hearts.
2009

September 7-9, 2009 – KIMOTO IZUMI "YAMATO" performed at the installation ceremony of a peace monument featuring a flagstone exposed to radiation in Hiroshima in 1945 in Ottakring district, Karl Bruckner's home area, in Vienna, Australia, in addition to several related concerts performed at Vienna International Centre, Embassy of Japan, and Municipal District Office 16th District.
(For additional activities, please click on Information.)